Live & Timed Auctions
The Proxibid Marketplace is committed to providing the most trusted online auction platform. Our timed and live technology is unmatched. Run your events with the industry leader.
Whether running in a timed or live auction format, or even your own storefront, you'll find no better partner.
Timed Auction
Nobody provides a better platform for online, timed auctions. In 2019 alone, Proxibid ran more than 6,800 timed events.
Depending on a seller's sense of urgency, inventory can be placed in a timed sale, with or without reserves. Timed events can accept bids for a few hours or several weeks. Last minute bids extend the end time, so the bidder willing to go the highest always wins.
Live Auction
Provide a live bidding experience to buyers anywhere in the world.
Proxibid provides the most seamless live bidding experience on the Web. Run a live auction in our Marketplace and let buyers from anywhere in the world bid in real time. Our live bidding application is easy-to-use and supports audio and video capabilities. Online buyers have a virtual front row seat at your auction. We provide all the training and support for sellers—or if you prefer, our team can run the application onsite or remotely.
See why nearly 9,000 live auctions ran on Proxibid in 2019. Watch a demo of the Live Bidding Application.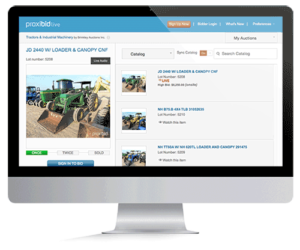 Leverage an Active 24/7 Sales Channel
Proxibid's transaction engine supports both buy now and make offer transactions.
Buy Now: Name the price you want for your items and buyers purchase directly from you.
Make Offer: Buyers make an offer on your items. You decide which offers to accept.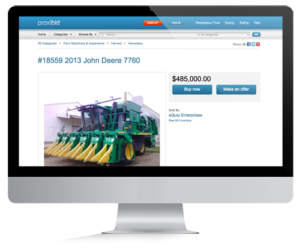 Offer your inventory on Proxibid and tap into an active sales channel that delivers highly-qualified leads, automated prospect engagement, valuable remarketing opportunities and ultimately, sales.
Lead Generation: Capture contact information from engaged prospects browsing your inventory right now.
Prospect Engagement: Your sales team can leverage our automated system for communicating with prospects active in the buying process on Proxibid.
Remarketing Opportunities: Develop a valuable remarketing database to use for upselling buyers and future re-engagement.
24×7 Sales: Proxibid's Marketplace is a 24×7 sales engine for your inventory—take advantage of the site's 2M monthly visitors.
Company Landing Page
Free with your Proxibid selling account, a company landing page features your logo, basic company information, and lists upcoming and past archived sales.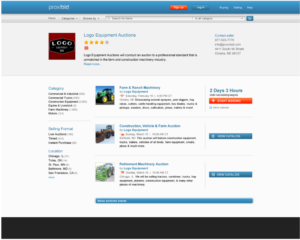 Features your company logo, company name, company description, physical address, contact information and website
Provides direct access to all upcoming and archived auctions/events
Edit information through the "Company Signature" section within AuctionBuilder
Includes a custom URL, www.proxibid.com/companyname, that can be used in marketing materials to drive buyers directly to your sales
Advertise on Proxibid
Proxibid's Marketplace is full of buyers looking for exactly what you have to sell.
Market your inventory to more than 2 million Proxibid site visitors each month. Our base of active buyers is constantly growing; 13k+ new users open an account monthly. And those buyers reach beyond borders—Proxibid account holders represent more than 190 countries.
Harness the power of the Proxibid buyer base by advertising in our Marketplace. Marketing opportunities include banner display advertising, weekly e-newsletter promotion, and custom email programs. Our email distribution list boasts more than 380k opted-in subscribers. Let our in-house marketing team build a custom marketing plan for your business that will drive real results.
View our Ad Catalog for a comprehensive overview of advertising opportunities on Proxibid.