The outbreak of coronavirus has forced the auction industry to take measures including the postponement of many sales and auctions around the world. Image via Wikimedia Commons.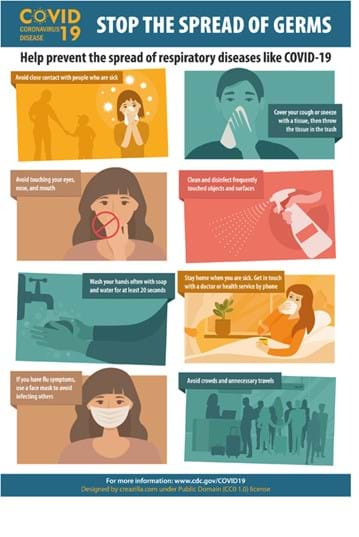 Due to the current pandemic, many of the live auctions on Proxibid.com have been moved to a live or timed online-only format, and some have been postponed or cancelled. See the latest sales taking place in the current auctions section, and please check with the auction house directly for further details.
Below is a list of the changes to sale dates of auctions on Proxibid.com. Check back regularly as we will continue to post updates.
This situation is fast-moving, and we are doing our best to keep you informed where possible.
| | | |
| --- | --- | --- |
| Auctioneer | Original Date | Changes |
| AAA Public Auction | March 28 | rescheduled for April |
| Abamex Auction Co. | April 7-8 | postponed until further notice |
| Allstar Auction Co. LLC | April 20 | event moved to End of Apirl or Early May |
| Anglia Car Auctions | April 4 | rescheduled for June 13 |
| Associated Auction & Liquidation Co | March 21 | postponed until further notice |
| Auction Solutions | April 2 | rescheduled for August/September; exact date TBD |
| Barrett-Jackson | April 16-18 | rescheduled for October 15-17 |
| Ben Bray Real Estate and Auction | March 28 | postponed until further notice |
| Ben Higgins Realty & Auction | March 26 | moved to June 10 |
| Blackmon Auction | March 17 | postponed until further notice |
| Brent Schmidgall Auction LLC | March 28 | postponed until further notice |
| Brindley Auction Service | April 18 | postponed until further notice |
| Brinkley Auctions | March 18-20 | postponed until further notice |
| Bryan Auction | April 2 | moved to live virtual auction format |
| Buddy Barton/Rosen Auctions | April 2 | moved to timed online format |
| Buddy Barton/Rosen Auctions | March 27 | moved to timed online format |
| Carr Auction & Real Estate | March 21 | postponed until further notice |
| Central Texas Auction Service | March 21 | moved to timed online auction ending March 28 |
| Circle M Auctions | March 20-22 | rescheduled for May 8-10 |
| Clark Auction Services LLC | April 6 | postponed until further notice |
| Classic Car Auctions | March 28-29 | moved to timed online auction format |
| Comley Auctioneers | April 9 | postponed until further notice |
| Connecticut Firearms Auction | April 4 | rescheduled for May 4 |
| Creamer Heimes Janssen Auctioneers L.L.C. | March 28 | postponed until further notice |
| Cunningham Partners | March 18 | cancelled |
| Darrell Regnier Auction Company LLC | April 15 | moved to timed online auction ending April 15 |
| Ediger Auction Services | March 28 | moved to timed online auction ending April 6 |
| Edinburg Auction Sales | March 14 | rescheduled for June 13 |
| Emmett Donnelly Auctioneering | March 28 | postponed until further notice |
| Enlow Tractor Auction | April 1 | cancelled |
| Fahey Sales | March 28 | postponed until further notice |
| First Capitol Auction | March 20 and 21 | moved to timed online auction format ending March 24 and 25 |
| Five Star Auction Services | March 21 | rescheduled for April 4 |
| Fraley Auction Co., Inc. | March 21 | postponed until further notice |
| GD Auctions | March 24 | postponed until further notice |
| GD Auctions | April 1 | postponed until further notice |
| GD Auctions & Appraisals | April 14 | cancelled |
| Grafe Auction Co. | March 17-19 | postponed until further notice |
| Graham Budd Auctions | June 1-2 | rescheduled for September; exact date TBD |
| Hahn Auctioneers, Inc. | March 21 | postponed until further notice |
| Hess Auctioneers | April 17 | postponed until further notice |
| Hoffman Auctions | April 4 | postponed until further notice |
| Hosking Sales | April 4 | rescheduled for sometime after April 30; exact date TBD |
| Iron Bound Solutions LLC | March 31 | rescheduled for April 14 |
| J Stout Auctions | April 1 | rescheduled for April 15 |
| J.J. Kane Auctioneers | March 28 | postponed until further notice |
| JMartin Auctions | March 31 | postponed until further notice |
| Joey Martin Auctioneers, LLC | April 2 | moved to live virtual auction format |
| Karen Rose Auction Company | April 5 | rescheduled for April 13 |
| Kiko Auctioneers | April 11 | rescheduled for May; exact date TBD |
| Lane Brothers Auctions | March 28 | moved to timed online auction format |
| Lasyone Auctions | April 10-11 | rescheduled for May 8-9 |
| Live Oak Realty & Auction | March 28 | postponed until further notice |
| Lloyd Meekins & Sons Auction Company | April 14 | moved to live virtual auction format |
| Marlette Livestock Auctions | March 21 | postponed until further notice |
| Maske Auction Service | March 26 | postponed until further notice |
| McGrew Equipment Company | April 14 | moved to live virtual auction format |
| Mel Manasse & Son Auctioneers | March 19 | postponed until further notice |
| Merchant's Wares | March 25 | cancelled |
| Mid American Auction Inc | March 28 | postponed until further notice |
| Midnight Sun Antique Auction Co | April 11 | postponed until further notice |
| Motley's Asset Distribution Group | March 17 | moved to timed online auction format |
| Old City Industrial | March 18 | rescheduled for May 6 |
| Old City Industrial | April 1 and 22 | extended to close May 20 and 27 |
| Peterson Land & Auction | April 21 | postponed until further notice |
| Powers Aucton Service | April 4 | rescheduled for April 18 |
| Premier Auction Group | March 20-21 | moved to timed online auction format |
| Pro Auction Co. | April 4 | postponed until further notice |
| Pro Team Auction Co. | April 24-25 | cancelled |
| Quarrick Equipment & Auctions Inc | April 2 | moved to live virtual auction format |
| R Howard Collectibles | March 25 | rescheduled for April 15 |
| RES Auction Services | March 18 | rescheduled for April 11 as of now |
| Robert Converse Auctions Inc. | March 28 | rescheduled for June 13 |
| Rogers Realty | March 28 | postponed until further notice |
| SAM Auctions | March 19 | moved to timed online auction format |
| Shamrock Auction | March 29 | rescheduled for April; exact date TBD |
| Siefker Real Estate & Auction Co. | March 28 | rescheduled for August; exact date TBD |
| SITE Auction Services | March 26 | extended to close April 2 |
| Sohn & Associates | March 21 | moved to timed online auction format |
| Spring Grove Auction Company | May 1-2 | postponed until further notice |
| Superior Energy Auctioneers | April 21-22 | cancelled |
| Sykora Auction Service | April 15 | rescheduled for June 15; exact date TBD |
| Sykora Auction Service | April 27 | rescheduled for June 15; exact date TBD |
| Sykora Auction Service | April 28 | rescheduled for June 15; exact date TBD |
| Sykora Auction Service | May 1 | rescheduled for June 15; exact date TBD |
| Sykora Auction Service | May 2 | rescheduled for June 15; exact date TBD |
| T and L Auction Service | April 13 | postponed until further notice |
| T&A Auction Services | March 28 | rescheduled for April 25 |
| The Corner Shoppe | April 17-18 | rescheduled for May 29 and 30 |
| Theriault's | April 1 | moved to timed online auction format ending April 1 |
| Thompson Auction | April 25 | rescheduled for May 5 |
| Timbercreek Auction | March 28 | moved to live virtual auction format |
| TNT Auction Company | March 21 | moved to timed online auction ending March 31 |
| Todd Crill Auction | March 29 | postponed until further notice |
| Tumbleson Auction Company | March 28 | rescheduled for April 11 |
| University of Washington | March 28 | rescheduled for May; exact date TBD |
| US Auctioneers, Inc | April 16 | postponed until further notice |
| Vander Kolk Auction & Appraisal | March 20 | postponed until further notice |
| Wagner Auctioneering | March 21 | rescheduled for April 18 |
| Wellensiek Auction Co. LLC | March 28 | rescheduled for August; exact date TBD |
| WorldNet Auctions | March 27 | moved to timed online auction ending April 2 |