Our Commitments to Auctioneers
ATG and Proxibid are clear in their commitments to auctioneers
ATG is committed to serving auctioneers as a trusted digital partner. We invest heavily in the industry, because we know that combining the right auctioneer technology and marketing toolkit with the most trusted online buying environment for bidders, enables auctioneers to maximize asset value and run successful online businesses.
ATG has backed up its commitments to auctioneers in 2020 with action and investment
We build robust, secure, feature-rich auction marketplaces which are optimized to convert traffic into buyers for auctioneers.
Welcomed Proxibid to Auction Technology Group, joining BidSpotter.com, BidSpotter.co.uk, thesaleroom.com, i-bidder.com, and Lot-tissimo
Invested in a new user experience team to improve the online buying experience for bidders
Bolstered the team dedicated to online bidder conversion for auctioneers
We execute effective digital marketing to grow the global bidder base for auctioneers.
Optimize performance with Proxibid's new 7-channel high impact marketing campaigns
Doubled the size of the ATG marketing team to boost our bidder engagement capacity
Increased 3rd party marketing spend on behalf of auctioneers
We provide business intelligence to deliver online auction insights to auctioneers.
New tool built to show online sales attributed to 3rd party marketing campaigns
Commitment to auctioneer business reviews
New Proxibid channel analysis to demonstrate marketplace ROI
We strive to offer best-in-class auctioneer and bidder support.
Built a dedicated, product specialist 'Client Services' team
New Wavebid Account Management team
Installed 'Chat' and Bidder Help Center on Proxibid
We commit unrivalled investment to future-proof the auction industry for auctioneers and never compete with you for an asset.
Proxibid New Listing Policy for all new clients to ensure only auctioneers are listing in the marketplace
Dedicated Wavebid development stream to increase the pace of feature delivery
Recruited top talent into Technology, Operations and Marketing
How do I hide auction results?
We understand that you may not want everyone to know how your auction did but instead of deleting your auction, you can simply hide the results.
If you prefer to hide your auction results, simply email your account manager to have your auction hidden.
Wavebid Product Updates
The following are updates on the Wavebid interface related to payments and refunds:
Add refunds on payments collected and a new button on "Payment Page" to issue refunds
Ability to edit notes on payments and refunds
"Refund Due" added to utilize when overpayments are made and apply balance due is used
Updated Auction Summary and Payment Summary reports to ensure refunds are displayed appropriately within all existing reports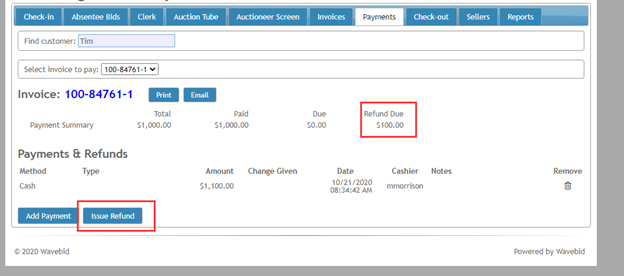 Click Here to learn how to issue refunds in Wavebid.